For the times you
need a little extra
Loans can come in handy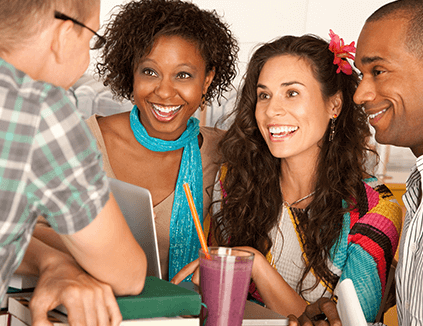 Loans, because life goals can get expensive
Life goals can come with a big price tag. Sometimes, it's the good stuff: education, home improvements, starting a business. Sometimes, it's the not so good stuff: things like unplanned medical expenses and other unexpected major costs. Whatever life throws at you, we want you to be ready for it.
 **Loan products  are offered by JMMB Bank (Jamaica) Limited 
JMMB Mortgage 
A JMMB Mortgage from JMMB Bank helps to take the hassle out of buying your home or property. In addition, a prospective homeowner who has been contributing consistently to the NHT, can directly access NHT funding benefits, towards achieving their homeownership goals, and JMMB will be there, every step of the way. With a JMMB Mortgage, you will get more support, more incentives, more benefits and more time to repay!
It's homeownership made easy.
With a JMMB Mortgage, you can enjoy benefits such as:
A more affordable payment plan with a 2-month payment holiday
More room to do more - Up to 95% mortgage financing and up to J$1 million in unsecured loans to cover additional home buying expenses;
More guidance from the financial partner you trust - JMMB mortgage experts guiding you through each step, and
More benefits to help you get into your dream house - Special discounts from Spaces Ltd. & Appliance Traders Ltd.
Take the first step by getting pre-approved
Potential home buyers need a mortgage pre-qualification letter from a mortgage lender to engage a real estate agent to locate a property. Follow these 3 simple steps to get pre-approved. 
 
Make an appointment with a JMMB mortgage expert
You will need to take the following information/documentation to the appointment:
• Income verification letter and your last three (3) months' pay advices
• If you are self-employed, please provide your last 2 years' financial statements (audited or in-house) supported by the most recent 12 months worth of bank statements or your last 2 years' income tax returns
• Proof of age (valid passport/birth certificate),  you must be at least18 years old
• Your Taxpayer Registration Number (TRN)
Letters will be available at least 48 hours after the initial meeting and can be emailed directly to you, the applicant, or will be available for pick-up at any JMMB branch, if you wish.
Download our step by step JMMB Mortgage Checklist
Frequently Asked Questions
Let us help you answer some of the frequently asked questions about mortgages.
Home Equity Loan
Home, working for you
You've invested in your home, now it's time for your home to return the favour. A home equity loan lets you use the equity you've built up in your home, as collateral. Think of your home as a symbol of your responsibility. The more of it you own, the more you can borrow. 
This loan offers relatively low rates and easy payment terms that are manageable and affordable.
Who can get a Home Equity Loan?
If you own your home or property
If you are employed with good debt servicing record
Benefits of a Home Equity loan
Access cash from the value of your home/property
Low interest rates and fees
Your maximum tenor is either: up to 15 year or the number of years left to retirement (age 65), whichever comes first
Minimum Loan Amount - $100,000
 
**Property and Home Equity Loans are offered by JMMB Bank (Jamaica) Limited
"Today I got my new car. usually i would be happy with the car but i am even more happy with the service I recieved from jmmb. my loan was processed so quickly" - Marsha
Motor Vehicle Loan (JMMB Drive Easy)
The easiest (and best) way to get a new car
A motor vehicle is more than just four wheels and an engine; it's the way you get to work, where you make your living; it's how to take your family from one point to another; and, not having one is oftentimes not an option.
If you need a car, JMMB Drive Easy is your best bet. It gives you access to affordable loans and insurance brokering, so you can drive away with a new or used car.
JMMB Drive Easy car solution offers two key elements:
A motor vehicle loan, offered by JMMB Bank (Jamaica) Limited
Motor vehicle insurance, brokered by JMMB Insurance Brokers
Features:
Motor vehicle loan
Up to 100% financing*
Competitive loan rates
Low processing fee
Flexible loan tenure
Used Cars: Up to 9 years
New Cars: Up to 10 years
*Conditions apply
Motor Vehicle Insurance
Your motor vehicle insurance will be brokered by JMMB Insurance Brokers, as a part of the JMMB Drive Easy car solution. Our professional insurance broker representatives will help you find the best value insurance coverage and premium, for your needs. We will shop around for you free of cost.
Optional Features:
You can also access other great services, under JMMB Drive Easy, like:
Insurance Premium Financing
Creditor Life Insurance – which will allow your debt to pass on with you.
*Conditions apply
Get started by using our car loan calculator
**Motor Vehicle Loans are offered by JMMB Bank (Jamaica) Limited
JMMB Graduate Loan
Access an affordable loan for all your education needs, with flexible repayment plans and competitive rates, by applying for the JMMB Graduate loan.
The JMMB Graduate loan offers an unsecured or secured loan, through JMMB Bank, with attractive interest rates. 
 
Features & Benefits:
Up to 5 years to repay
Flexible pay-back period
Fast approval time
Competitive rates and fees
**JMMB Graduate Loan is offered by JMMB Bank (Jamaica) Limited
 
JMMB Payroll Bridge
We all do our best to ensure that we plan ahead for all our financial needs, but JMMB understands that 'life happens'; that's why we offer the JMMB Payroll Bridge, our payday advance loan solution. This unsecured loan is designed for our clients who want to borrow funds on a short-term basis, which can be used between your monthly salary, to cover an unexpected emergency.
This solution, from JMMB Bank, is available to salaried employees* offering you as much as J$2,500,000 and up to 5 years to repay.
**JMMB Payroll Bridge is offered by JMMB Bank (Jamaica) Limited
Cash Secured Loan
Use your cash to make even more cash
You work hard to build up a savings account. So when something comes up and you have to clear it out, it can be frustrating. So don't do it. When you have a cash secured loan, you can use your hard earned money as collateral to take out a loan. The best part is, we let you access out a loan on whatever your heart desires. 
Features:
Maximum Amount: 90% of Asset Value (cash held in account) or 80% (this margin is for cross currency loan e.g. where a foreign currency loan is secured by J$)
Maximum Tenor: 5 years (60 months)
Reason for borrowing: Any legitimate purpose specified by the client.
**Cash Secured Loans are offered by JMMB Bank (Jamaica) Limited
Unsecured Loan
For when you need it most
Maybe you don't have any property just yet to borrow against. Maybe you found a great opportunity to make a big purchase. Whatever the case, an unsecured loan can be just what you need to take care of the task at hand.
Features:
Maximum Amount: J$25 million
Maximum Tenure: 7 years 
Reason for borrowing: Any legitimate purpose, specified by the client.
 
**Unsecured Loans are offered by JMMB Bank (Jamaica) Limited