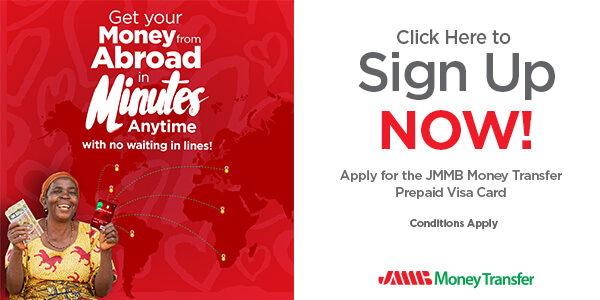 JMMB Money Transfer VISA Prepaid Card
The JMMB Money Transfer VISA Prepaid Card is a game changer for those who receive funds from friends and family overseas. Why is this card a game changer? With the JMMB Money Transfer VISA Prepaid Card, you can now receive remittances from over 150 countries and able to have access to your funds within minutes, 24/7, without the hassle of visiting a branch or agent location. This card offers you the convenience of accessing your funds instantly and securely.
Not only can you receive money directly to your card, but you can also withdraw your funds at ATMs and make purchases at Point of Sale (POS) terminals island-wide. The card is accepted wherever VISA is accepted, giving you the freedom to shop and pay for goods and services wherever you are.
This prepaid card is easy to use, secure and gives you the peace of mind that comes with knowing your money is safe. Whether you're at home or abroad, the JMMB Money Transfer VISA  Prepaid Card is your ideal financial companion.
Features/Benefits 
Access your remittance from any ATM that accepts VISA
No fees to withdraw your remittance from any JMMB Bank ATM
No Bank Account Needed
Shop locally or online anywhere VISA payments are accepted
No POS Fees
No Annual Fees
 
Click here to apply for your JMMB Money Transfer VISA Prepaid Card
JMMB Money Transfer VISA Prepaid Card FAQ