Manage your
finances with ease
Convenience at your fingertip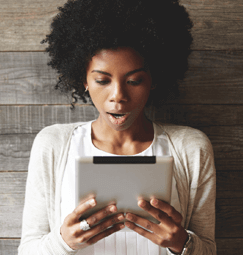 What is Moneyline?
A full online banking experience
Imagine this: you just got home, you sink into your chair, and you read the news. There, you see the advertisement for your dream car, at a third the price it should be. But you have to buy it today. Do you have enough to cover the costs? You'll know in a heartbeat with Moneyline.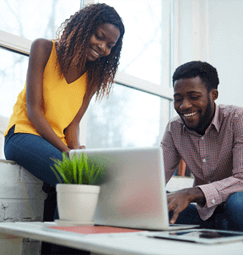 What can I do on Moneyline?
Experience JMMB Moneyline
JMMB Bank Visa Debit Card 
When you open a JMMB Bank personal chequing account, you will automatically receive a JMMB Bank VIsa debit card.
Your JMMB Bank Visa debit card will give you the freedom to:
Access to our 16 JMMB Bank dual currency ATMs (J$ and US$), island wide. 
Make deposits to your J$ or US$ JMMB Bank account(s), at any JMMB Bank specified ATMs;
Make withdrawals from both your J$ or US$ JMMB Bank account(s), from any JMMB Bank ATM and from any other specified VISA certified ATMs locally;
Withdraw US$ from any VISA certified machine overseas;
Make purchases at VISA certified point-of-sale machines;  
Make purchases anywhere VISA is accepted locally, online, and internationally; and
Experience enhanced security fraud protection, through the VISA chip technology.
With your JMMB Bank Visa debit card, you can enjoy 24-hour access to your chequing accounts.
Read our JMMB Bank Visa debit card Terms & Conditions
JMMB Bank Smart ATM
A smarter way to bank, with the JMMB Bank Smart ATM
We love serving you in your best interest, through the introduction of additional alternative service delivery channels that make managing their money easier. Avoid in-branch lines and easily make your cash and cheque deposits at our ATM.
With our new JMMB Bank Smart ATMs, you can get:  
Smart deposit of your cash and cheques (no envelopes or slips needed)

Increased cash and cheque deposit capacity – Smart deposit now allows you to insert up to 10 cheques and up to 90 notes at one time, at specific ATMs

Immediate access to your cash deposited

Real-time updates on your current and available balance, for cheque deposits made; and
The convenient card tap feature to conduct certain transactions* – Simply tapping the card at the indicated point on the ATM, then enter your PIN and start banking. No need to insert your debit card which reduces the likelihood of you leaving your card behind.
Automated Teller Machine (ATM) FAQ
Online Banking and ATM Safety
For every new benefit of the internet, there's a potential new risk involved. That's why it's important to arm yourself with all the information and tools you will need to protect yourself.
Remember to monitor your accounts regularly.
If you suspect that your ATM card may have been compromised, immediately contact our Client Care Centre at 876-998-JMMB (5662) to have the card restricted.
Client Care (Call) Centre: Call us anytime. We're happy to set up a meeting with you to discuss your financial present and future. You can reach us at:
Client Care: 1 876 998 5662
From the USA and Canada: 1 877 533 5662
From the UK: 0 800 404 9616
Moneyline: An online banking portal. For a full description, please see above.