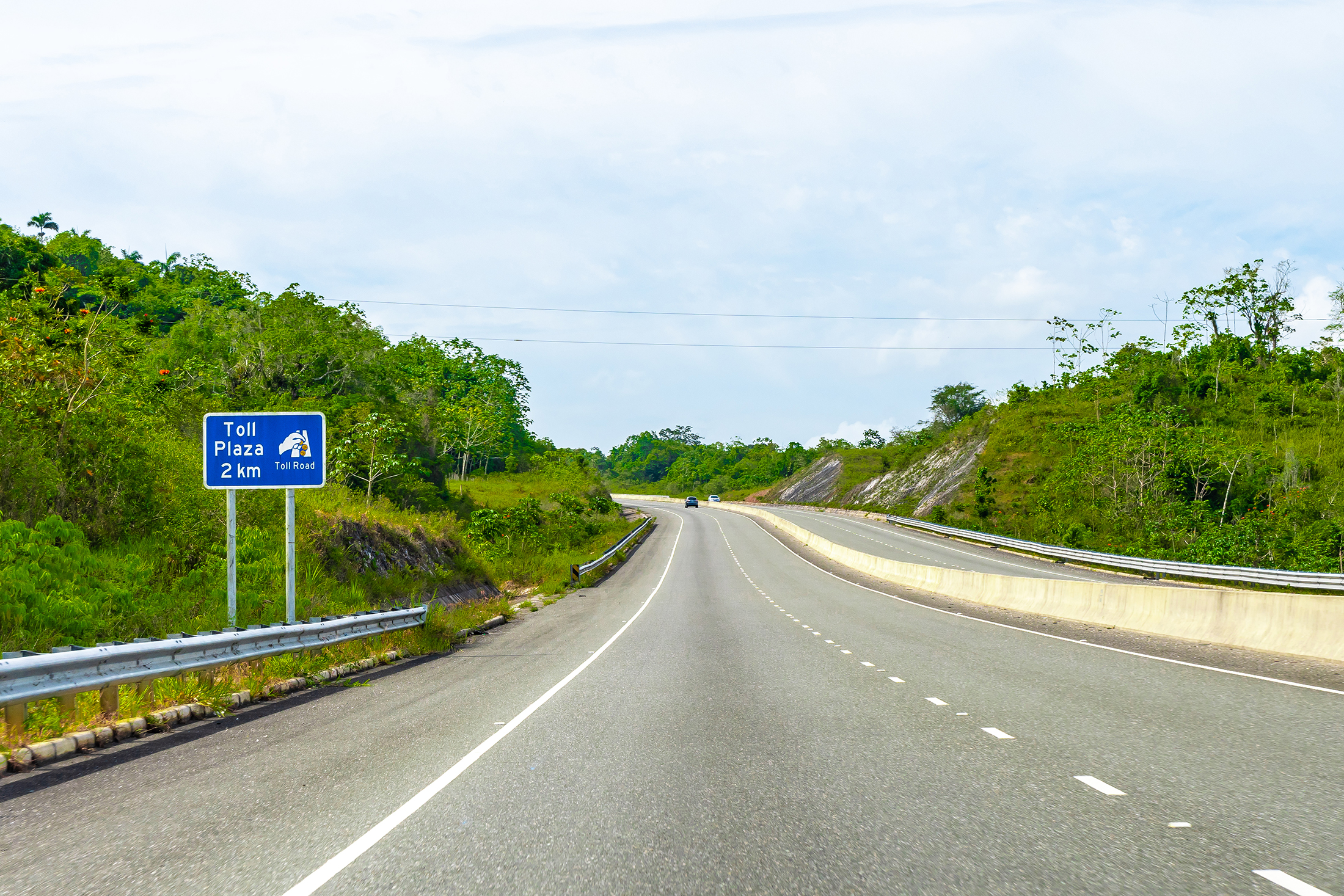 **This Offer is Now Closed**
TransJamaican Highway Limited IPO
We are pleased to invite you to purchase up to 8,000,000,000 Ordinary Shares in the capital of TransJamaican Highway Limited (TJH), with the right to upsize the offer by an additional 2,000,000,000 Shares in the event of oversubscription on the terms and conditions set out in this Prospectus. Of those shares, 5,362,962,963 are reserved shares for Reserved Share Applicants, and 2,637,037,037 are available to the general public. For the first time in Jamaica's history, the opportunity exists for members of the public to own a share of one of Jamaica's most important infrastructural developments. Highway 2000 East-West was the first toll road to be built and operated in Jamaica and was transformative in shortening the commute between Kingston and May Pen and Kingston and Portmore.
Previously, TJH was owned jointly by Bouygues Travaux Publics, Vinci Construction, IFC, and Proparco. Vinci Constructions and Bouygues Travaux Publics, have both designed, financed, built and operated a total of 3,564km of roads in 14 countries. Given the importance of this asset, the Government of Jamaica ("GOJ"), through us (NROCC), a state-owned entity, purchased 100% of the ordinary shares in TJH on 23 December 2019. This acquisition has created the opportunity to make this Offer for Sale of up to 80% of the Company (assuming the offer is upsized) to you my fellow Jamaicans. While the ownership of TJH has changed hands, there will be continuity in the operations and management of the Toll Road in that Jamaican Infrastructure Operators ("JIO" or "the Operator"), a company jointly owned by Bouygues and Vinci whose management has over 50 years of experience both in internationally and regionally, will continue to operate and manage the Toll Road under an Operating & Maintenance Agreement.
Read the TransJamaican Highway Ltd prospectus
Apply for the TransJamaican Highway Ltd IPO via Moneyline
Offer Details 

Open Date
Monday, February 17, 2020
Closing Date
Monday, March 2, 2020

Jamaican Dollar Price
J$1.41 per share
US Dollar Price
US$0.01 per share

Minimum Purchase
Minimum of 1,000 share for J$ applications. 
Minimum of 100,000 shares, for US$ applications.
How to apply via JMMB Moneyline
 
Submitting an application for an IPO, online, is quick and easy, using our online banking platform, JMMB Moneyline. Follow the steps in the video which are also referenced below to successfully submit your application:
From your browser, go to the JMMB Moneyline website which can be accessed at https://moneyline.jmmb.com/personal/                                        
Enter your username and password then select 'Login'.
This is for persons with online access to their JMMB Equity Money Market Fund Account – (EMMA)
 
Enter your security question then press 'Continue', to begin your Moneyline session
 
From the main menu select 'Transactions', then select 'New Transaction' from the drop-down menu
 
Select 'Buy Stocks', for the transaction type.
 
Select the Equity Money Market Fund (EMMA) account that you would like to make the purchase from Select 'IPO', and all available IPOs will be displayed. Choose the IPO you would like to purchase, then press 'Continue'
 
You will be navigated to the 'Order Details' page, where you will be able to enter the quantity of shares you would like to purchase. The order type automatically defaults to the market price.
 
You can also save a note to yourself about your transaction using the Personal Note section
 
Please confirm your agreement with the terms and conditions in the IPO's prospectus, by pressing 'Continue'.
 
If you have joint holders, a pop-up will appear to inform you that joint holders over the age of 18 years must indicate approval of this transaction to complete processing; and that instructions will be sent to joint accountholders via email.
 
You will be sent to the 'Order Summary' page, for review. You may then press the 'Back' button to revise the transaction; 'Continue' to approve the transaction; or 'Save and Add Another', if you would like to include additional stock purchases.
 
Once you have selected 'Continue', enter your PIN, then select 'Process All Transactions'.
 
The status column for the Transaction Results will indicate that the transaction has been submitted!
 
Joint Account Holder Approval Process
As a joint accountholder you do not need Moneyline access to be able to approve the IPO transaction. Joint accountholders will receive an email with the link to approve the stock order and an access code.
1. Enter your TRN and the access code in the form provided and click 'Submit'.
2. Review the stock order and confirm your agreement to the terms and conditions in the prospectus, by clicking the 'Approve Purchase' button.
3. You will be navigated to the confirmation page, stating that the IPO transaction was approved.
Open your stockbrokerage account (JMMB EMMA)
If you do not already have a stockbrokerage account (JMMB EMMA), get moving by opening your JMMB EMMA account with us, so that you can take advantage of this great investment opportunity, as well as other investment opportunities in the future.
1 Gather all your documents:
2 Visit you nearest JMMB Financial Life Goals Centre and speak to a representative 
3 Fund your account with the amount needed to purchase the required shares.
4 Sign up for JMMB Moneyline online access. This will allow you to view your investments, buy and sell shares, transfer funds between accounts and more.
Key Highlights
This offering presents a unique opportunity for investors to participate in the ownership of the first toll road, an integral piece of Jamaica's infrastructure with key investment highlights being:
Attractive return on Investment. An investment in the Company based on the current offer price is expected to yield an Internal Rate of Return (IRR) of 13% – 14%. This is above the benchmark for brownfield toll roads which ranges from 8% – 12% based on industry studies.
Attractive traffic profile with strong, stable historical traffic volumes and gross toll collections. In the last 7 years, historical traffic and toll collections data for the Toll Road reflect sustained growth with limited volatility. We expect that Jamaica's current traffic profile combined with its projected positive outlook will result in a steady increase in demand for safe and efficient transit options and increased traffic flow on the Toll Road.
Equitable Concession Agreement predicated on a contractual framework that balances the economic consideration of operations and value provided to users. The Concession Agreement provides for CPI Adjusted and J$/US$ Exchange Rate-Linked Toll Rates. In addition, subject to certain exceptions provided in the Concession Agreement, NROCC is liable to compensate the Company for revenue lost if the Jamaican Government promotes transportation means that compete with the Toll Road or does not approve toll rate adjustments in line with the Concession Agreement.
Exclusive rights to own and operate the Toll Road until 2036 and the exclusive option to extend such period for an additional 35 years for a fee payable to NROCC. In addition, the Company has an exclusive TO first right of refusal to own and operate the upcoming 28.0km long May Pen to Williamsfield leg of the highway (Phase 1C). This represents a potential upside to investors and has not been factored into the proposed Offer Price.
Experienced transportation infrastructure operator with access to global best practices. JIO, (the Operator) has operated the Toll Road for the past 17 years since its inception. JIO has extensive experience in the type of construction necessary for the Toll Road both locally and from the global access of its shareholders. On its own, JIO maintains an Integrated Management System that is certified to quality ISO 9001:2015 and environmental ISO 14001:2015 standards. Through VINCI, the JIO benefits from extensive experience in the development and operation of infrastructure projects around the world.
Know your brokers and selling agents
CO-BROKER

NAME

TELEPHONE

EMAIL

ADDRESS

BROKER CODE

NCB Capital Markets Limited
 

 

876-960-7108

 

32 Trafalgar Road
Kingston 10

9

CO-BROKER

NAME

TELEPHONE

EMAIL

ADDRESS

BROKER CODE

JMMB Securities
Limited
 

Karl Townsend

876-704-6520

23 Phoenix Avenue,

Kingston 10

17

SELLING AGENT

NAME

TELEPHONE

EMAIL

ADDRESS

BROKER CODE

Scotia Investments Jamaica Limited
 

Lennox Elvy

876-932-0367

Corner Duke & Port Royal Streets,
Kingston
 

16

Stocks and Securities Limited (SSL)
 

Adrian Smith

876-929-3400

33 1/2 Hope Road,
Kingston 10

3

GK Capital Management Limited
 

Nigel Sinclair

876-932-3290

58 Hope Road,
Kingston 6

6

Jamaica Money Market Brokers Limited
 

Karl Townsend

876-704-6520

23 Phoenix Avenue,

Kingston 10

17

Proven Wealth Limited
 

Christopher Yeung

876-908-3800

26 Belmont Road,
Kingston 5

2

Sagicor Investments Jamaica Limited
 

Mischa McLeod-Hines

876-764-0325

85 Hope Road,
Kingston 6

18

M/VL Stockbrokers Limited

Ed Mckie

876-909-0441

19 Holborn Road,

7

 

Suzette Campbell
 

876-960-1570

New Kingston,
Kingston 10
 

 

JN Fund Managers Limited
 

Jermaine Deans

876-929-7102

2 Belmont Road,
Kingston 5

33

VM Wealth Management Limited
 

Nordialee Stewart

876-960-5000

53 Knutsford Boulevard,

Kingston 5

10

Barita Investments Limited
 

Anna Leah Reid

876-926-2681

Ext: 2255

15 St. Lucia Way,
Kingston 5

4

Mayberry Investments Limited
 

Mckoy Jackson

876-935-0799

1 ½ Oxford Road,
Kingston 5

1

COLLECTION AGENT

NAME

TELEPHONE

EMAIL

ADDRESS

 

Paymaster Limited

Athinia Campbell

1-888-729-2455

18 Cargill Ave,
Kingston 10