March - Lanisia Rhoden
"Whatever your mind can conceive and believe, it can achieve" - Napoleon Hill
1 March 2018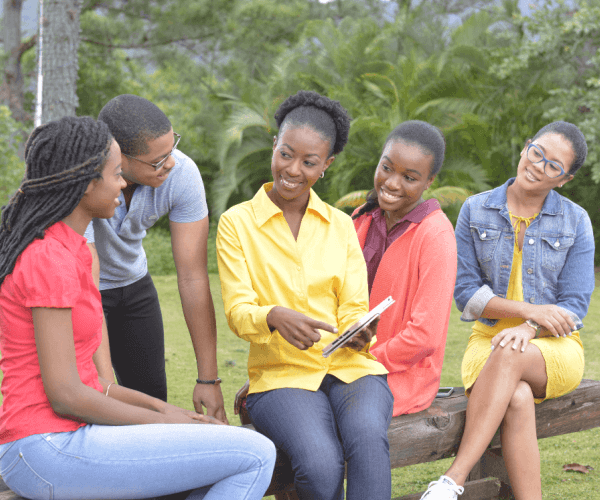 The adage the 'apple does not fall far from the tree', is apt in describing thirty-three year old, Lanisia Rhoden, social entrepreneur and founder of the Young Women/Young Men of Purpose (YWOP/YMOP) non-governmental organization. Her life's passion and purpose is to inspire young people to uncover the 'greatness' within them, with a guiding philosophy that "whatever the mind can conceive (and believe) it can achieve."
Lanisia was born and raised in a household where faith in God and compassion for others was commonplace, as demonstrated by her parents, Stanley and Sandra Rhoden, a pastor and Sunday School teacher/ dressmaker respectively. Describing her mother as her role model, she notes that she grew up seeing her mother caring for those around her, especially teenagers. She adds, "My mother was always helping young people, whether it was through the children's home or infirmary outreach at our church, or taking other young girls under her wing, and I would often wonder if she had other daughters," Rhoden revealed.
While attending Manchester High School, Lanisia's deep passion for volunteerism was sparked. She balanced her academic prowess of maintaining her spot on the Dean's list, while dedicating her time to extra-curricular activities such as Girl Guides, Tourism Action Club and Key Club. This involvement in community service continued throughout her years at the University of Technology, where she pursued her Bachelor of Science degree in food service management.
Powered by Passion
It was a series of chance encounters along her career path that would help to solidify her career as a social entrepreneur and push her to realize her purpose. After returning from a stint in France, teaching English, she taught at HEART Trust/NTA in Junction, St. Elizabeth; there, Lanisia recognized that many of the students required the social support she provided as a mentor and friend, while straddling her role as a teacher. Unsatisfied with the opportunities she was able to create for these students, Rhoden used her year as Miss Manchester Festival Queen in 2009, to formalize the mentorship and career guidance initiative she had begun, thereby giving birth to Young Women/Young Men of Purpose. At present, the non-governmental organisation provides mentorship sessions on different vocations, presentations from professionals, pairs mentees with volunteers, and has over 50 members regularly going into schools to do presentations, aimed at empowering students and building their self-esteem. It also executes outreach projects with special needs children.
Rhoden, who also holds a Master of Science in innovation management and entrepreneurship from the University of Manchester, UK, as a Rotary Ambassadorial Scholar, further stated that outside of mentorship, YWOP/YMOP carries out three projects that are funded internationally by: The Youth Entrepreneurship Project, through the UN-Habitat Urban Youth Fund, in 2012, and REAP I (Realise Embrace Achieve Your Purpose), which is funded by the Commonwealth Youth Council and CUSO International and most recent REAP II, which is funded by the Canada Fund for Local Initiative. The latter entrepreneurship project has so far trained 50 young entrepreneurs in Manchester, and gave business grants of US$500 to the top 14 businesses of entrepreneurs between the ages of 18 and 32; while the REAP II Project has provided capacity building training for 42 young women who are unemployed, not in school and have experience abuse or teenage pregnancy.
Armed with a passion and purpose for inspiring others, Lanisia, has also established herself as a social entrepreneur, with the creation of a social enterprise platform called Link Your Purpose, in 2016. The career development platform, though in its initial phase, provides career development services to young people, via the internet, helping users to determine their career goals and areas they are best suited for.
A true entrepreneur at heart, Lanisia also owns and operates a catering business, Le Monde Concessionaire and Catering Services, and is currently a business advisor at HEART Trust/NTA, where she encourages and supports youth entrepreneurs in attracting funding and developing business plans.
Driven by Purpose
Having enrolled to become a facilitator in the JMMB Joan Duncan Foundation-led Conversations for Greatness programme - designed to help to transform over 150 schools - Rhoden has also been emboldened to invest more and share her life and experiences with more young persons. She adds, "this experience has made me more confident, and (assists me to) identify greatness in others and complements the journey that I have started.
The hard work and dedication to making a difference in the lives of youth, by this young entrepreneur, has not gone unnoticed, and has seen her copping the prestigious Governor General Award for Youth Leadership in the community, as well as the Commonwealth Youth Award for Excellence in Development Work. She attributes all these accolades to God, who has given her further platforms to continue helping others.