Project STAR - Social Stocks
Project STAR (Social Transformation and Renewal) is a social and economic development initiative created by the Private Sector Organisation of Jamaica (PSOJ) in partnership with the Jamaica Constabulary Force (JCF) and driven by communities to bring about societal transformation through targeted interventions in under-resourced areas of Jamaica.
Project STAR is an undertaking of the Social Transformation and Renewal (STAR) Foundation Limited, a company duly incorporated pursuant to the Companies Act of Jamaica and registered under the Charities Act of Jamaica. Project STAR believes that by working together, we can transform Jamaica into a place where everyone is valued and has the opportunity to thrive. 
INVITATION FOR PARTICIPATION 
The Company invites applications for participation in 100,000,000 Project STAR social stock. Each Application for Project. STAR social stock is subject to a minimum of 500 Social Stock. The Company reserves the ability to accept applications in excess of J$100,000,000.00. The 100,000,000 Project STAR social stock in the Invitation are available for application by the general public.
All Project STAR social stock are priced at a price of $1.00 per Social Stock. The Company intends to apply to the Jamaica Social Stock Exchange for admission of all of its Project STAR social stock to the Jamaica Social Stock Exchange following the close of the Invitation. The outcome of such an application will depend on the Company meeting all the admission criteria of the Jamaica Social Stock Exchange.
Download the Project Dossier and read more
Donate to Project Star by Purchasing Social Stocks  
Offer Details 

Open Date
Thursday,
June 22, 2023

Closing extended until
Friday,
November 3, 2023

Price Per Social Stock
J$1.00
How to apply via JMMB Moneyline
 
Submitting an application for an IPO, online, is quick and easy, using our online banking platform, JMMB Moneyline.
Follow the steps in the video which are also referenced below to successfully submit your application:
From your browser, go to the JMMB Moneyline                              
Enter your username and password then select 'Login'.
This is for persons with online access to their JMMB Equity Money Market Fund Account – (EMMA)
Enter your security question then press 'Continue', to begin your Moneyline session
From the main menu select 'Transactions', then select 'New Transaction' from the drop-down menu
Select 'Buy Stocks', for the transaction type.
Select the Equity Money Market Fund (EMMA) account that you would like to make the purchase from Select 'IPO', and all available IPOs will be displayed. Choose the IPO you would like to purchase, then press 'Continue'
You will be navigated to the 'Order Details' page, where you will be able to enter the quantity of shares you would like to purchase. The order type automatically defaults to the market price.
You can also save a note to yourself about your transaction using the Personal Note section
Please confirm your agreement with the terms and conditions in the IPO's prospectus, by pressing 'Continue'.
If you have joint holders, a pop-up will appear to inform you that joint holders over the age of 18 years must indicate approval of this transaction to complete processing; and those instructions will be sent to joint account holders via email.
You will be sent to the 'Order Summary' page, for review. You may then press the 'Back' button to revise the transaction; 'Continue' to approve the transaction; or 'Save and Add Another', if you would like to include additional stock purchases.
Once you have selected 'Continue', enter your PIN, then select 'Process All Transactions'.
The status column for the Transaction Results will indicate that the transaction has been submitted!
 
Joint Account Holder Approval Process
As a joint account holder, you do not need Moneyline access to be able to approve the IPO transaction. Joint account holders will receive an email with the link to approve the stock order and an access code.
1. Enter your TRN and the access code in the form provided and click 'Submit'.
2. Review the stock order and confirm your agreement to the terms and conditions in the prospectus, by clicking the 'Approve Purchase' button.
3. You will be navigated to the confirmation page, stating that the IPO transaction was approved.
Open your stockbrokerage account (JMMB EMMA)
If you do not already have a stockbrokerage account, you can start by opening your JMMB EMMA account with us, so that you can take advantage of this great opportunity to invest in Jamaica's social transformation., as well as other investment opportunities in the future. Getting started with JMMB is easy and we are here to help you every step of the way. Follow these simple instructions to start the process of opening your EMMA account.
If you need any assistance, please contact our Client Care Centre at  (876) 998-JMMB (5662). 
Our Client Care Centre opens:
Mondays - Saturdays: 8:00 a.m. - 9:00 p.m.
Sundays: 8:00 a.m. - 5:00 p.m.  
You will receive an email confirming the receipt of the documents sent to us. Within two (2) business days, a JMMB representative will contact you to have a financial planning conversation and provide the next steps to complete your account opening process. Once the account is opened, fund your account with a minimum of J$25,000 and/or the amount needed to purchase the required shares (whichever is higher).
The Project STAR Approach
COMMUNITY | CONSULTATION | COLLABORATION
 
'ALL A WI' APPROACH - Project STAR is a 5 Year programme that includes four years of intervention in each community.
Collaboration and consultation are at the heart of the Project STAR approach, which ensures that needs as well as solutions are identified and implemented by the communities themselves. In turn, Project STAR works with our partners - communities, government agencies, NGOs, CBOs and private sector entities and individuals at home and in the diaspora - to connect communities with the services and resources that were agreed during the consultation process.  A rigorous process of feedback, review, learning, and improvement has been established to ensure that the projects undertaken remain relevant and can be owned by the community. Project STAR's deep-seated commitment to achieving substantive and sustained change at the community level is demonstrated through ongoing accountability and reporting.
 
The belief is held that a shared vision of Jamaica, in which everyone is valued and has the opportunity to thrive, can be realized through collective action across society.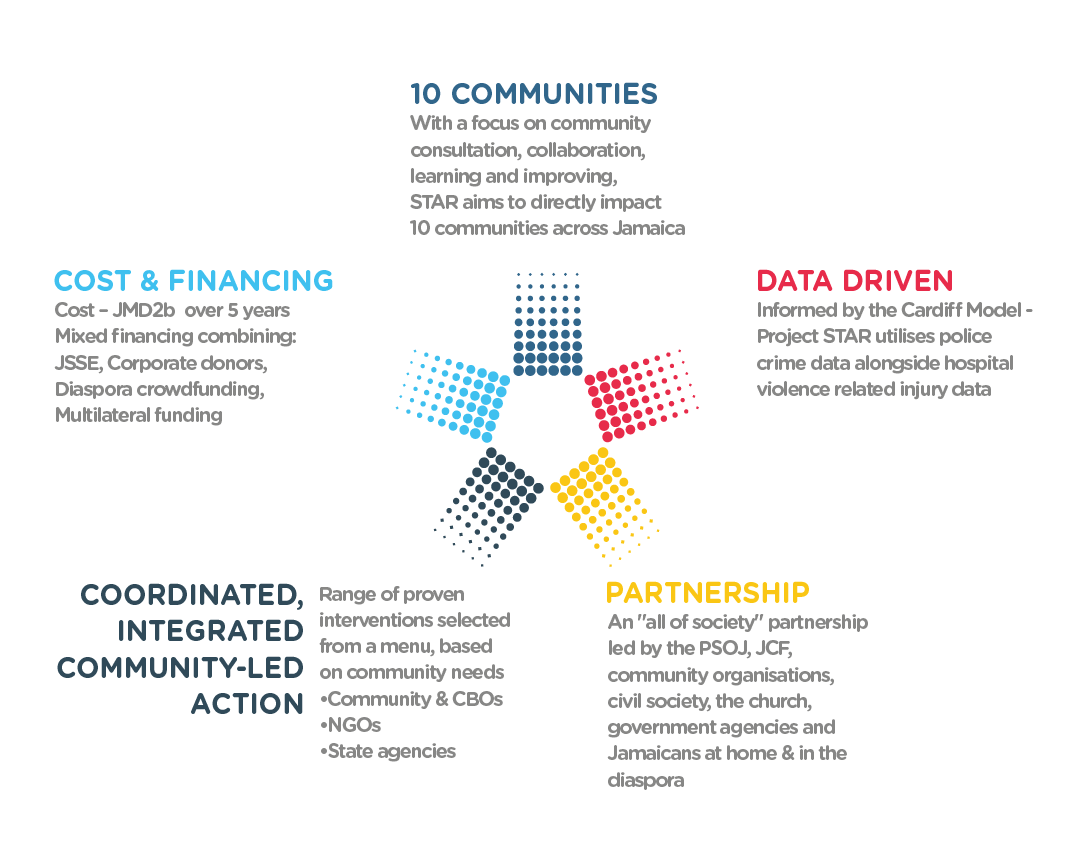 Know your brokers and selling agents
| CO-BROKER/SELLING AGENT | ONLINE APPLICATION PORTAL | TELEPHONE |
| --- | --- | --- |
| JMMB Securities Limited | | 876-998-5662 |
| Barita Investments Limited | | 876 926 2681 |
| Mayberry Investments Limited | | 876 929 1908 |
| NCB Capital Markets Limited | | 876 960 7108 |
| PROVEN Wealth Limited | | 876 908-3800-1 |
| VM Wealth Management Limited | | 876 960-5000-3 |